The new slackPro! 25mm 42kN Slackline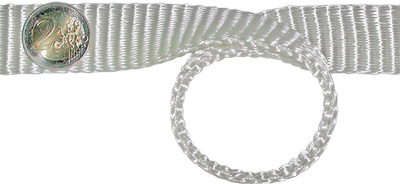 Specs
| | |
| --- | --- |
| Material: | Polyester |
| Breaking strength: | > 42kN (4.2 t / 9.250 lb) |
| Stretch at 10kN: | < 3,5% |
| Stretch at 15kN: | < 5,0% |
| Stretch at 20kN: | < 6,5% |
| Width: | 25mm (1") |
| Thickness: | 2.7mm (1/10") |
| Weight per meter: | 72g (0,16 lb) |
| Weight per foot: | 22g (0,05 lb) |
| Color: | dark-/light green or blazing white |
Tangible properties
- very soft and flexible, despite the high breaking strength and compact design
- rounded, pleasant to hold edges
- coarsely woven surface for optimal grip
unique color print with great advantages
- one side dark green with white lightning motif and logo in 100cm interval (to determine length)
- other side light-reflecting neon-lightgreen



This brings unique benefits:
1. As a rigged longline it fits unobtrusively into the natural scenery, almost camouflaged, so to speak. As jumpline it is still perfectly visible on any surface, because it can be rigged with the dark or light side up, depending on the ground color.
2. A twist in the line will will catch your eye immediately. This saves time and hassle.
Innovative und unique print-technology
The color is NOT as generally usual applied via screen printing to the surface, but is applied at 200°C and under high pressure in a thermo sublimation method. It permanently bonds with the polyester fibers (of course without damaging them!). The printing can therefore not smudge even at the highest technical demands, as do many other "standard" printings.
Why don't we use dyed polyester fibers? Dyed polyester fibers have a significant greater stretch than white fibers. To acheive a webbing with the highest quality and performance we have therefore decided for the more expensive method of digital printing.

100% Germany
Designed, produced and sold in Germany! We have exclusively commissioned the development of this webbing in a German weaving-mill to our exact specifications. Decades of experience in the development and manufacture of webbing of our partner, combined with our substantial know-how for longlines reflects in the unique properties of this great webbing.

Fotogallery
---
Further tables and specs
---
Tension-Stretch table

daN (kg) tension
% stretch
max.
500
2,0
600
2,1
700
2,4
800
2,7
900
3,1
1000
3,4
1100
3,7
1200
4,0
1300
4,4
1400
4,7
1500
5,0
1600
5,3
1700
5,6
1800
5,9
1900
6,2
2000
6,5

Minimum breaking strength when using fasteners:

| | |
| --- | --- |
| slackHook (10 oder 11mm Stahl) | 27kN |
| 30mm slackLock mit 20mm Divertor | 30kN |
| 30mm slackLock mit 25mm Divertor | 34kN |
| 25mm slackLock mit 20mm Divertor | offen |
| 25mm slackLock mit 25mm Divertor | offen |
| 25mm slackLock mit 30mm Divertor | offen |
| Chain Linelocker | offen |
| | |
| ...in progress | |

Are you using other fasteners? We gladly test the breaking strength of our webbing in combination with your fastener free of charge on our own 5t breaking test machine. Please contact Andy.