The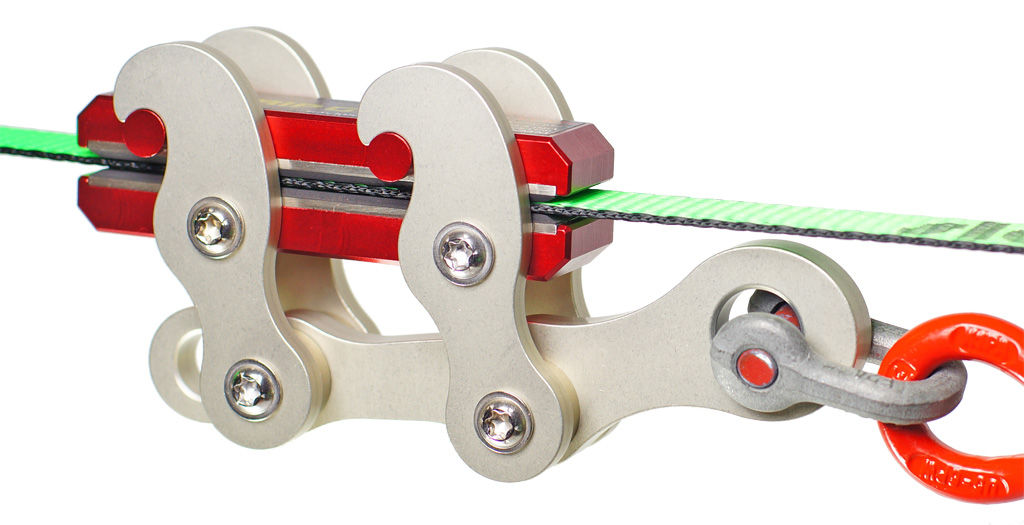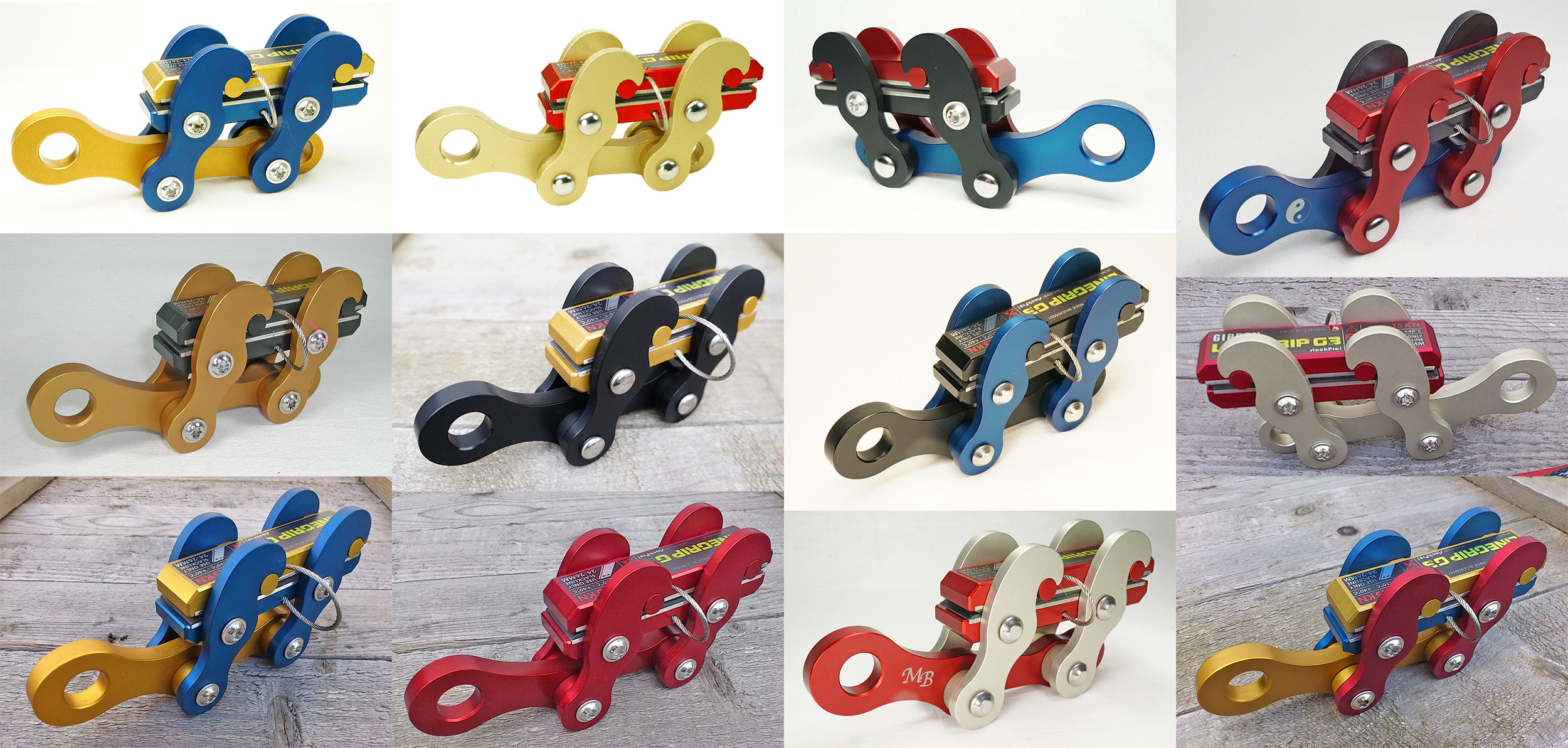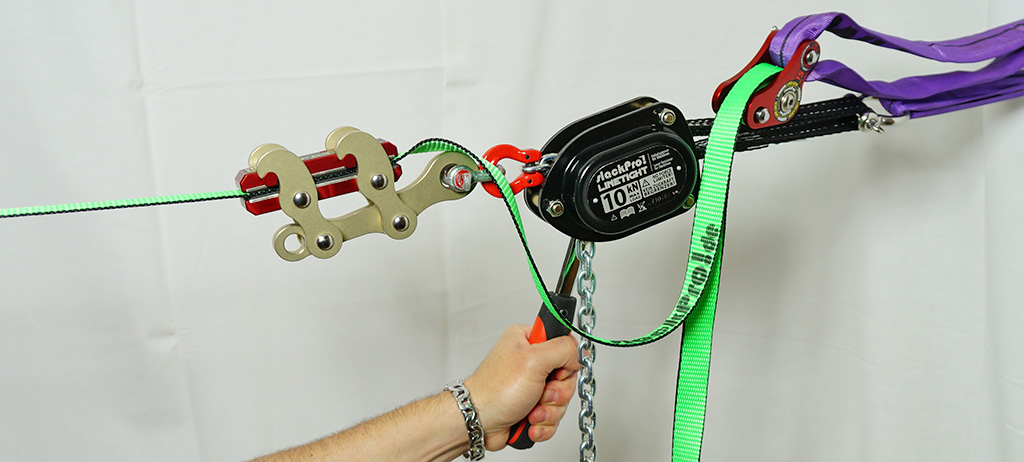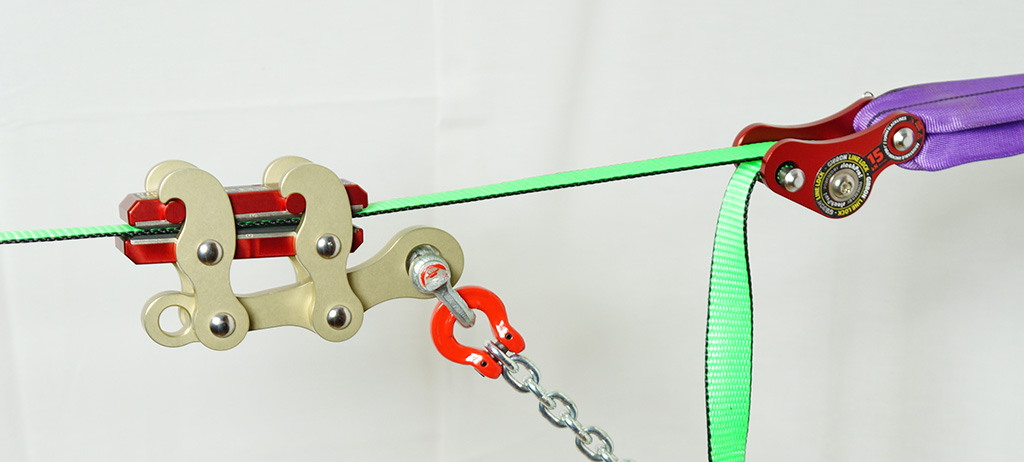 The lineGrip-Technique: The Slackline is grabbed with the lineGrip and then tensioned (left)...(right) after tensioning the load is transferred onto the lineLock and the lineGrip is removed.
Since longlines are being rigged, there was always the same dilemma:
"Where do I attach my tensioning equipment?"
"If I attach it too far out, I might have 2m of pulley system to walk over."
"If I attach it too near, though, I might not have sufficient room to tighten my line enough to walk it."
Longliners all over the world have been puzzling over the solution of this problem ever since tensioning long slacklines. Back in 2006 in Scharnitz (1st slackline meeting in Europe, Austria) I had a chat with Damian Cooksey and Chongo on the topic. Damian said at that time "...we're workin' on it and we'll have a solution soon..."
But until today, no one has brought up a marketable solution for everyone to the market, except for us.
Back in 2008 we started working on a solution to this problem and since 2009 we conduct intensive research and development work on this project. Finally, at the end of 2009 a patent could be applied for by our subsidiary "slackPro! Research" on the already fully functional lineGrip. Since May 2010 it is available here from us and exclusively through the worldwide Gibbon-Retailers. Since then it revolutionizes the way longlines are tensioned! And finally in June 2011 the patent was filed and published through the German Patent Agency under the number 102009044739. Based on this patent more patents were applied for all over the world. Mid 2012 the long awaited European Patent was filed under the European Patent Number PCT/DE2010075146. More Countries will follow soon.
We have put a lot of commitment and corporate risk into this project in the hope that it will become a profitable product someday. In the meantime, we are pleased that the lineGrip is accepted so well and eases life of long- and highliners worldwide. We are happy, that it enables you all to reach your goal more relaxed.
In simplified form, the lineGrip is a webbing-clamp, thus, a clamp to hold on to a flat webbing / slackline, in the broadest sense similar to the known steelwireclamp as used in telegraph wire construction for well over a hundred years.
Please choose from the topics in the open menu to the left, to learn how the lineGrip can also facilitate and accelerate the setup of longlines and highlines for you, as well as make your lines safer and improve your slacklining experience.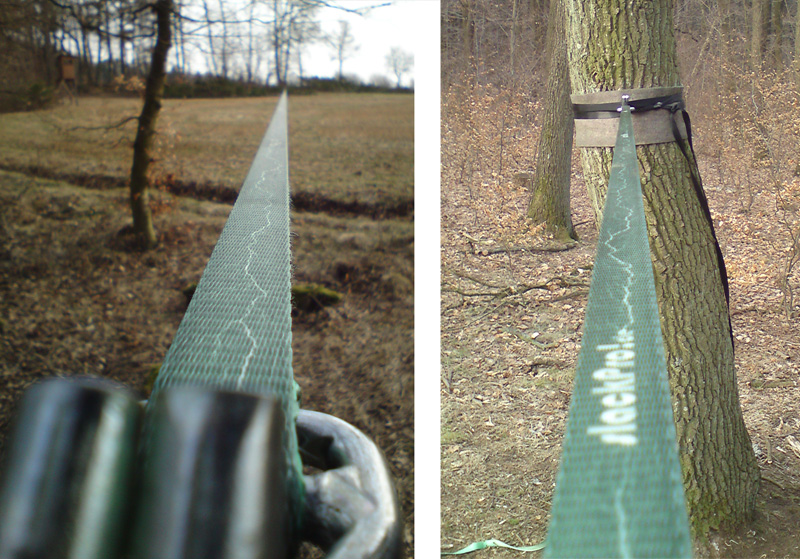 This is what a finished for walking longline looks like when rigged with the lineGrip... left anchor 1, right anchor 2 with detensioning system - hook-line-hook, thats it!